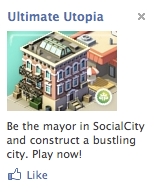 The social networking beast that is Facebook usually allows a couple of sponsored ads off to the right of whatever the interface looks like this month, and this one caught my eye because of the attention grabbing headline: "Ultimate Utopia."  Go figure.  I'm wondering if there's some utopian online gamer out there who knows anything about SocialCity?  There's not much information about the game available, but here's what I was able to find out:
SocialCity was developed by the social gaming developers Playdom—the same guys who brought you Mobsters.
According to AppData, who provide, according to their website, "Independent, Accurate Facebook Application Metrics and Trends from Inside Facebook," the object of the game is to "Build and run your own virtual city. Create the perfect place for the people that call it home, and you'll become the most loved and revered mayor of all time!"
I, for one, get really annoyed by all the gaming apps on facebook, and so don't play them (though I did have a brief foray into Mobsters).  Nevertheless, there is some utopian energy going on here, and I thought I should bring it to Utopus readers' attention.